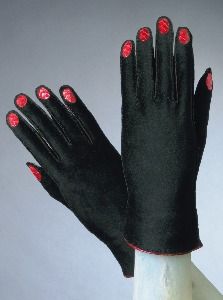 Why Fringe Fries you may ask? Or maybe what the hell are Fringe Fries?
Well....
They don't exist.
But what does, is my light hearted, fun, and a little crazy attitude. The exact way I like things to go. My life very much so revolves around fashion, style, trends and this obnoxious industry that moves and turns and twists me.
I love the kind of fashion that is a little out there, makes your mind turn and evokes thought... just an amazing piece of art. For the reason a few of my favorite designers are Alexander McQueen, Marc Jacobs and the most inspiring, Elsa Schiaparelli.
Schiaparelli was the epitome of a light hearted, witty and amazingly talented designer. I love that she collaborated with amazing artists as Salvador Dali and for her time, really made a statement on the fashion industry.
I believe there should be a little bit of humor and wit in everything. Laugh at yourself, be a little crazy, push the boundaries and make people think!
That really inspires me.
Sweet & Sour Dreams,
xoMarci